We all know Google made mobile-friendly (MF) a major consideration for rankings in 2015. Sites that still do not adjust to smaller screens are penalized with lower search results than those of their MF competitors. The next step Google is taking in this march toward making users happy is the speed in which a website loads on mobile screens. Since users are turning out be very impatient with download times and 30% of online consumers will never return to a site where they have encountered problems, having a fast, user-friendly website is becoming more important by the minute.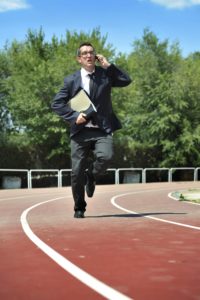 It's Now or Never
Yes, consumers want a website to load on mobile devices, but they have little patience in waiting for that to happen. If a website takes more than 3 seconds to load nearly half of desktop users will move on before it's complete, mobile users wait even less time. Every second a page takes to load increases the bounce rate while decreasing the conversion and page view rates. One second can reduce conversion rates by 7%.
How long will mobile users wait?
3% of mobile users will abandon a page in less than one second
16% will leave a page that takes 1-5 seconds to load
30% abandon the page between 6-10 seconds
16% move on at 11-15 seconds
15% will abandon a page after 16-20 seconds
20% leave if the page takes more than 20 seconds
By around the 6-second mark a web page has lost a majority of users, anything longer than that and the page is down to a minuscule number of mobile users who will have viewed the page, even if it does appear high in the SERPs. Even before that severe 6-second drop-off, web pages have already suffered a decent bounce rate after the initial first second has passed.
Speed Affects Ranking
Google has made note of high-speed improvements implemented by sites such as Apple's News, Facebook's Instant Articles, and Snapchat. These sites are making it faster and easier to access content. In an attempt to match these efforts and keep people using Google as their source of information, Google has made a push for web developers to use an opensource optimization initiative called AMP (Accelerated Mobile Pages). AMP focused solely on accelerating mobile page download times.
AMP allows Google to use a thinned out version of code that moves much faster. It also renders a version of the web page that has been cached in the cloud. It is possible to get this cached version in far less time than it takes to get the information directly from the website each time. At this time, AMP is best used on news and blog articles because it is extremely limited on the stylized design that can be included, making it most applicable to articles rather than full webpages.
Moving forward, AMP sites and websites with fast download speed will become one signal in Google's algorithms that configure rankings. While it is far from the only ranking indicator, it is quickly becoming an important one. Google puts so much emphasis on load time that it offers a free tool to measure the speed of a website. Of course there are some speed issues that are out of the hands of developers, such as the network speed of the user.
More Media Equals a Slower Site
While speed is growing in importance, oddly, today's websites are getting slower. Average website speeds have increased from 4.33 seconds in 2013, to 4.8 seconds in 2014, and then jumped to 5.5 seconds in 2015. Why? The amount of videos, graphics, images, and other dense media is becoming more in demand as consumers want well-developed, informative content that is easy to consume. This is in direct contrast with the demand for speed.
Innovators will continue to look for ways of decreasing download time while still keeping the videos and graphics consumers enjoy. As web pages do become faster there will be no looking back. Consumers who become accustomed to nearly instantaneous load times will not bother with anything less. While the technology has not fully bridged the world of fast loading web pages with that of heavy media and design, developers are working hard to bring the two together.