Blogging Benefits for Businesses
Blogging has come in and out of vogue as it first cropped up, gained popularity, became overly saturated, and eventually proved to be an effective tool for marketing and information delivery. Now that time has passed and studies have been done over years, the benefits of blogging on your company's website are piling up. In fact, Technorati published a report stating that blogs are the third most influential and fifth most trusted source of information on the internet.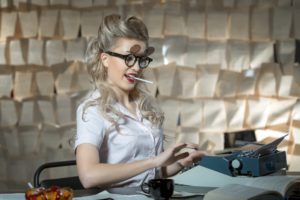 Whether your blog is light and entertaining news or an in depth look at a type of service or industry, it is a source of information—and Google loves information! Your blog, more than any service page, has the potential to show up in searches that are formed as a questions. It has the potential to be shared and liked on social media, and regularly adding new blogs has the added benefit of creating a larger website with an ever-growing library of detailed information.
What are the benefits of blogging for small businesses?
There are two main categories that blogging benefits fall into: 1. social benefits and 2. SEO advantages. Below is a look at how benefits stack up under each of these two categories.
1. For the People By the People
Blogging puts a human face on your company. It offers helpful tips, desirable insider information, or ways of understanding a subject. It is not a sales pitch. Blogs helps you stand out as a business owned and run by people who care about the industry, as opposed to a marketing team out to make a buck. Blogs are a break from the constant barrage of advertising people get hurled at them each day. They allow your company to have a voice, as an educated insider, without trying to sell. As you will see in benefit number 3, this human touch—sans sales pitch—develops trust.
2. The Social Media Tie-In
Can you say "viral"? When people read and like the information you've shared, they share it with other people they think will also like it. When you post your blog on your social media channels it has the potential to be sent from person to person at no cost to you. This is the best form of free advertising. More people lean about your company as they open the blog. They see your branding, surf your website, and become a list of brand new leads and potential customers. As an added perk (as if you needed more than free marketing!) social media sharing quickly multiplies through the snowball effect.
3. Gain Customer Trust
Now that you've shared your blog on social media, you get to show off your chops as an industry leader. All that shop talk you did helping people become well-informed on the topic validates your expertise. It builds trust that you know what's what in the industry. That trust converts into sales when the newly impressed individuals are ready to buy.
4. Gettin' to Know You
People like to review a website before contacting a service provider or buying a product. In fact, studies show that a vast majority of shoppers research products and services online before buying. The higher the cost of the service/product, the more they research. If you have established trust with potential clients through an authoritative, non-sales-pitchy blog, you have already positioned yourself well beyond your competitors in the minds of your blog readers.
5. Brand Authority and Recognition
As stated above, folks who read your blog spend time on your website. They see your branding and feel confident in you as an authority in your industry. When they go to buy, it is your company who will come to mind.
6. Generate leads
People who want more information will call, email, or comment. You will also get connections via Facebook, Twitter, and the like. This contact information will prove valuable for marketing future promotions. Each contact is a lead for future sales!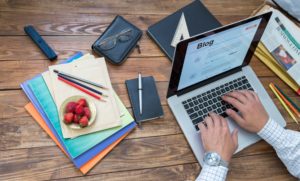 7. Sway People
You know your industry, so you know what hesitations people have when it comes to making a purchase. A blog is a great place to set the record straight. Without sounding like a sales pitch, you can discuss the value of your business, the things people may not know about the benefits, and the pitfalls of going without or using a lesser service. Why buy teeth whitening from a dentist when you can get it cheaper at the grocery store? Here, let me tell you…
---
The SEO Advantage of Blogging
The next category of blogging benefits focuses they ways they help drive up your search rankings.
8. Fresh Content, More Pages
As stated in the introduction, Google loves information. The more original information you can provide, the better. Not only will the readers appreciate it, but you also get a chance for Google to index the blog as a source of information on the topic.
Reports show that websites with 51-100 pages generate 48% more traffic than those with 50 pages or less. The more blogs you write, the more pages your website has. While landing pages certainly count as pages, they often have the same general information repeated for different locations. Blogs add to your page count while increasing the amount of new information on your site.
Additionally, having new content added on a regular basis keeps you site relevant. Google quickly learns to regularly crawl your website for new information, knowing it does not remain static for long.
9. Key Terms
When people think of key terms they think of one or two word combinations, however, questions can also be key terms. Many people search for information by typing in a question. When your blogs have information answering specific questions, they will be indexed to come up in results for those question. In this way, blogs gives you a whole new set of terms and phrases to rank for.
10. Offsite links
If your blog article has well-researched statistics and sound information, other people may use it as a source of information in their own articles. When they do, they often link the specific information to the blog where they found that information—your website. The more quality links you have pointing toward your website, the higher Google views the authority of the site. This will help to improve your overall rankings. Also, if people click on those offsite links to your website, those click-throughs also help.
11. Links to Landing Pages
When your article makes mention of a specific service, you can link the blog to the appropriate product or service page on your website. You can even interlink your blogs when some of the information overlaps. Likewise, you can link the service pages toward the blogs for more information. Internal linking helps search engines understand the relationship between pages on website. The more clearly linked a site is, the better Google can index its pages. A website that Google's spiders can quickly understand is one that is ranked more easily.
12. Longevity
Information that will remain true for an ongoing length of time is called evergreen content. This content is relevant to be shared any time a person comes upon it. A blog about your company's participation in a specific charity even is an example of content that has an expiration date and is not evergreen. People are only interested in it until the event is over. Evergreen content will keep people coming to the blog for days, months, even years, ever increasing the click-through rate and rankings. Over time, it can have a snowball effect—something service pages rarely do.
As you can see, there are many advantages of writing a blog on your website. Keeping the focus of a blog wrapped around answering a question is a great approach to demonstrating authority, offering people valuable information that answers something of interest, and getting Google to index your blog as an answer to specific questions.