PPC Campaign Management Services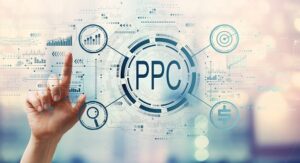 Search engine marketing (SEM) is one of the most effective ways to reach potential customers. This method includes the systematic use of local SEO services and Google Adwords, which is Google's PPC (Pay-Per-Click) advertising platform. Not only does it place your business at the top of search results in the "Sponsored Links" section, but it targets customers as they look for your specific services. PPC campaigns are highly customizable and offer a high degree of control. When executed correctly, they can generate revenue and allow you to reach new customers quickly.
At Effective Web Solutions, we create and manage customized Google Adwords campaigns for an extensive range of industry-leading companies. Whether you're a new business or firmly established, SEM can increase margins and provide a fantastic ROI.
Benefits of PPC Marketing Services
Potential customers can be enormously receptive to Google Adwords. Studies show a PPC campaign strategy can yield as much as a 50% increase in the chance to convert clicks into a phone call or sale compared to an organic search result. That's a fantastic difference, and our specialists can create a campaign that reaches customers who are currently interested in your service and drive conversion to a high degree. We use several tactics to accomplish this.
The management and creation of a pay-per-click advertising campaign in Portland can be time-consuming. Skill, knowledge, and experience are all required if you want to get the most out of your SEM. Without the help of a specialist, you can easily blow through your entire budget with very little to show for it. That's why so many businesses choose EWS for an effective, managed, and results-oriented Google Adwords campaign.
An automated PPC campaign type is not an option. These campaigns cannot be left untended if we wish to see a satisfactory ROI. Google Adwords has no way to set a cap for your campaign. That means without careful monitoring, once your budget is reached, it will merely refill without human intervention. Failing to analyze trends will result in a campaign structure with a shallow conversion rate.
We take care of everything. From constant checks to ensure you stay under budget to targeted key terms and maintenance, we manage it all. Doing this is the easiest way for you to get results from your SEM. Let Effective Web Solutions provide professional Google Adwords PPC management so you can focus on your new customers and expanding business.
How Do Google Ads Work?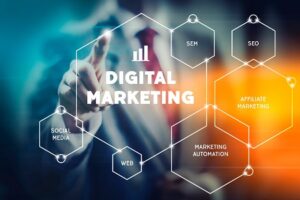 Reach customers in real time as they search for your service.
Your business appears at the top of the search results page.
Gain customers in specific or far-reaching service categories.
Benefit from our expert team in professional campaign management.
We keep you within budget and target high-converting customers.
---
Google Adwords For Portland Businesses
Managing your SEM campaign isn't the only thing we can do for you. As a full-service digital marketing firm, we can provide social media, remarketing, and much more. Combining all of these critical services under one roof allows us to create a comprehensive, far-reaching online marketing campaign formulated explicitly for your business and growth strategy. Our PPC team of qualified professionals carefully and continuously monitors all accounts. We make sure every one of our campaigns stays within your advertising budget and work with clients to devise and revise marketing campaigns that target the consumers they want to engage with most.
We also provide other digital marketing services:
Search Engine Optimization (SEO Strategy) 

Social Media Marketing

Content Marketing Services

Custom Web Designs

Email Marketing

Remarketing

And More
Visit our About Us page for more information about our digital marketing agency!
EWS Proudly Serves The Following Locations!
Vancouver, WA | Portland | Seattle | Tacoma | Salem, OR | Eugene | Phoenix
---

---
Being Oregon's largest city has its benefits. Portland is one of the most unique places to live and visit. An ever-evolving melting pot of different cultures that brings people together in the best of ways. From the gorgeous Pittock Mansion to the Portland Saturday Market all the way to the infamous Voodoo Doughnuts, there is always something for everyone in this thriving city. And at Effective Web Solutions, we see this uniqueness every day. Providing websites for a variety of businesses and clients in Portland allows us to have knowledge and experience getting all different kinds of companies ranking successfully. Being in this location has its perks, as well. Right in between the Willamette and Columbia rivers with the most fantastic view of Mount Hood and home to the very lush and green trees that are so notorious for this area. With the city's slogan of "Keep Portland Weird," you know that you will never be bored when you're here. There are always events to attend, like festivals and concerts. Hiking trails that go on forever. And don't worry about the food. There are restaurants in this city that even professional chefs from Food Network love. Known for a lot of farm-to-table restaurants and catering to all diets, including vegetarian, vegan, and gluten-free. The chefs that work and feed Portland are some of the most friendly and inspiring people. Whether you're an art enthusiast, a foodie, or just some that loves to experience different cultures. Portland will always welcome you and be the melting pot, yielding new adventures and experiences for everyone to enjoy. Effective Web Solutions is here to provide your business with a beautifully and expertly designed website! Give us a call today!
---