Search Engine Marketing is the best way to connect with potential customers while they are searching for the services you offer. It's a proven way for local businesses to gain new customers and increase sales volumes through careful planning, contouring, and strategizing with clear objectives.
These efforts are key to achieving a targeted Return On Investment. Tracking and monitoring metrics of these campaigns helps businesses better understand how to present services in a way that customers find attractive and useful.
But most business owners don't have the time needed to continually track and adjust their ads on Google, which is why internet marketing companies offer this service, often in addition to website development and Search Engine Optimization.
Good SEM can get businesses to the top of the results pages quickly while they wait on more long-term SEO strategies.
Here is a graphic detailing a properly executed ad campaign that quickly increased conversion:
How Search Engine Marketing Works
Accounts are organized by campaigns, ad groups, and keywords. For example, an auto repair shop account would have a campaign for "scheduled maintenance", and underneath would be groups like "transmission service" and "oil change" etc. Nested under those ad groups would be more relevant keywords and ads.
The way the process works involves being entered into an auction for the top three or four spots, so your marketing agency might advise you on whether this level of advertising is appropriate for your business at that time. Letting standard SEO efforts get you some traction before adding SEM to your package can be a good approach. But again, the order in which businesses implement marketing strategies is largely contingent on their starting point.
Relevancy and Ad Quality: The Name of the Game
Ads that include relevant search information give users more reason to click. In addition to being a key ranking factor, the usefulness, or quality, of the landing page (where users end up when they click on a link) increases the chances that they'll stick around and choose to buy your services. One way businesses over-do it with these pages is by cramming in too many options.
The point is to facilitate conversions, or, take the next step to using your advertised service, whether it's calling a phone number, requesting a quote, or downloading a product. So, low-value content with a maze of phone numbers, "buy now!" buttons, download options, "pitchy" content, and multiple contact forms will only confuse and drive customers away. Narrowing down and testing which contact options work best for your industry will help retain traffic and increase conversions.
Once your agency has established your top search term(s) and refined the corresponding landing page, you'll set a monthly budget and create your campaign in Google Ads. Google will combine your bid (the dollar amount that you're willing to pay or each conversion) with multiple quality factors including:
Expected click-through rate
Landing page experience (The best landing pages have the right keywords within high-quality content. These pages are crawled by Google and rated for how relevant they are to the ads and keywords)
Ad relevancy
Expected impacts of ad formats (ad formats include video, call-only ads, images, or text-only)
These factors help advertisers calculate a score for their ad called an "Ad Rank."  This method prioritizes quality over of simply paying the most for the top spot. To further clarify, ad rank is determined by the quality score and Cost Per Click/Call. Quality score is based on how relevant the keyword is to the ad, and subsequently, the ad to your landing page.
The biggest factor alongside quality is relevancy, or finding the keywords that people are actually searching for. Making ads and landing pages tailored to those keywords so that your ads are the most relevant to the person's search query is a win-win for users and businesses (and Google!).
How Marketing Agencies Can Help Optimize Your Ad Campaign
Say your ad isn't showing up in the top three or four spots on the results page. Finding out why is part of what marketing agencies do. If your city is saturated with similar companies who are all competing for ads, yours might struggle to climb to those top spots. Again, adjusting the bid, adding the right keywords to the landing page, and reviewing the ads for relevancy, will help the ad reach the first page.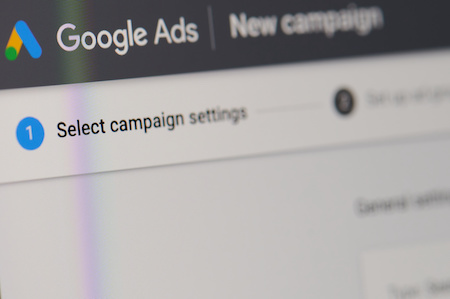 Ad agencies can:
Help you define your target audience and goals.
Schedule your ads to show during the times that make sense for your business.
Analyze search term data to exclude keywords that are triggering your ads to show for irrelevant searches.
Analyze campaign data based on hour of day, day of week, user location etc. to determine your most profitable times and locations.
Create tailored landing pages that serve the purpose of getting conversions.
Make personalized performance reports.
Conduct consultations with your account managers to discuss new strategies and approaches.
Perform ad testing.
Set up competitor targeting.
Offer suggestions on proven techniques in advertising for your industry from experienced professionals.
Improve Quality and Increase Traffic With Customized Search Engine Marketing
Legitimate agencies use software that can estimate your competition's monthly budget and gauge spending based on long-term data. These companies have helped hundreds of local businesses increase sales by finding search terms with high traffic volumes and the lowest cost per click.
Your Local Internet Marketing Specialists
If you are looking for a marketing partner who can help you grow your business, look no further than Effective Web Solutions. We are a digital marketing agency and a Google Partner with over 14 years of extensive experience helping businesses like yours succeed online. EWS has a broad marketing team of professionals who understand how to read these algorithm updates so you don't have to. Our team will work with you to create a custom digital marketing strategy that includes SEO services, social media, and other marketing efforts that are designed to get results. We know what it takes to get your business noticed online and are dedicated to helping you reach your goals.
Internet marketing services we offer include:
Search Engine Optimization

 

(SEO)
Search Engine Marketing (SEM)
Web Design/E-Commerce
Social Media Marketing
Remarketing
Review Doctor
Geofencing
Email Marketing
Content Management
Reputation Management
And More!
Contact us today at (360) 803-0710 to learn more about our services and how our SEO experts can help you grow your business by choosing us as your internet marketing partner.
Note: This blog has been updated on 05/18/2023