How You Can Use Local Search Optimization to Establish Prominence Within Google My Business
Gathering reviews is a great way to improve your SEO and build a reputation in collaboration with your customers. And because these reviews also power the overall company star ratings which show up in organic search traffic, it's important to monitor and even have some control over them.
In addition to giving users a quick idea of how your services stack up against local competitors, these Google+ ratings are important because they boost your SEO and optimize your click-through rate, driving potential high-quality site visitors.
95% of buying decisions are swayed by online reviews, making it more important than ever to take control of your online reputation. EWS has a solution for you. What is it you may think? Our reputation management program!
Aside from being in close proximity to the user and optimizing keyword variations by adding the city and state abbreviations, business owners can influence their GMB map ranking factors through local search optimization by encouraging customers to leave reviews after using their service. Review count, quality, and score factor heavily into local rankings.
The Importance of Frequent High-Quality Reviews
Before companies can have a say in their online reviews, they must gather a list of customer emails. And since most residential service companies like homebuilders and plumbers will gather address and payment information but no email addresses, they miss out on one of the most valuable online ranking factors: frequent high-quality reviews. So, the big questions for these businesses are, "How do I gather email addresses from my customers?" and "How do I incentivize customers to leave a review of my services?"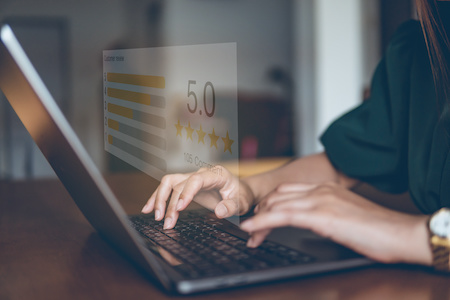 While customers don't think twice about giving service companies required information such as address, phone number, and payment information, email addresses are sometimes a different story. However, places like grocery stores and restaurants will offer to send receipts via email because it's convenient for the customer not to have to keep track of a paper receipt. This provides a perk for both the customer and the business because that contact information doubles as an effective and long-term way to communicate through coupons, newsletters, and surveys. Customers will see the benefit of sharing their email address with their neighborhood grocery store, and because they've already reaped the benefits, they are likely to leave a review later on if asked.
The takeaway? Make providing an email address inherently rewarding for your customers.
An inherent reward, in this case, may be easy online scheduling, appointment reminders, invoice delivery, or online payment options. If your business does not have any of these systems in place, it might be a good time to consider it.
So, what's a high-quality review?
But what does "high-quality" mean in terms of online reviews? A high-quality review tends to be more than a couple sentences and maybe even reflects the unique personality of the reviewer. Most of all, the review has to be useful, recent, and include relevant details to be considered high-quality by both potential customers and Google. This can even mean giving a company five stars while still including some negative details. Here are two compelling facts about local consumer reviews from an extensive study performed by BrightLocal in 2016:
73% of consumers believe that reviews older than three months are irrelevant
95% of consumers make purchasing decisions based on reviews
How EWS' Reputation Management Can Help Your Business Gather More Positive Reviews
Homepage service request forms are one way to gather email addresses. However, customer email addresses scattered across different areas of your inbox need to be organized into a spreadsheet for easy access. Why? Because when it's time to request a review, you'll have an easily accessible, dated system to reference.
Sound like too much work? Fortunately, Effective Web Solutions can handle everything. Simply send us your list of customer emails and our reputation management team will put together a custom review system that lets you control which reviews are pushed out to Google+ and Yelp and which ones go directly to you.
Reviews are critical to online business success, but asking customers to take the time to write thoughtful feedback is a tough sell, right? Wrong. The same survey performed by BrightLocal showed that 70% of customers said they would leave a review if asked. Tough sell or not, Effective Web Solutions does the work for you, taking several factors into consideration when managing your online presence.
We help you by:
Gathering Google+ reviews on a consistent basis — this increases overall rankings and helps drive new business
Guarding your reputation with our proprietary review-gathering funnel
Filtering negative feedback while encouraging positive Google+ and Yelp reviews
Monitoring your brand and making sure that any negative feedback goes directly to you so you may respond to it without having to worry about it affecting your online reputation
Allowing you to choose whether to solicit feedback from your customers online or in person (our printed offer cards encourage customers to rate your services if they are reluctant to give out their email addresses)
Offering incentives for customers who write reviews
For perspective, here are some numbers from clients who are currently participating in our online review management program.
Since starting their campaign:
A local pest control company saw reviews jump from 32 to 96
A cleaning company boosted their reviews from 2 to 25
A plumbing company's reviews went from 16 to 61
A private school saw reviews increase from 15 to 46
The Bottom Line: Tracking online conversations about your company can have a positive impact on your earnings
Other internet marketing companies will offer similar review-capture services but are not careful about negatively affecting your citations and SEO efforts. Because we also handle your citations and SEO, your rankings won't suffer.
Get a glimpse into what words customers are using to describe your business and use them in your overall SEO strategy. And gain valuable insight into what your customers like and areas where you can improve with our state-of-the-art reputation management services.
More About Effective Web Solutions
If you are looking for a marketing partner who can help you grow your business, look no further than Effective Web Solutions. We are a digital marketing agency and a Google Partner with over 14 years of extensive experience helping businesses like yours succeed online. EWS has a broad marketing team of professionals who understand how to read these algorithm updates so you don't have to. Our team will work with you to create a custom digital marketing strategy that includes SEO services, social media, and other marketing efforts that are designed to get results. We know what it takes to get your business noticed online and are dedicated to helping you reach your goals.
Internet marketing services we offer include:
Search Engine Optimization

 

(SEO)
Search Engine Marketing
Web Design/E-Commerce
Social Media Marketing
Remarketing
Review Doctor
Geofencing
Email Marketing
Content Management
And More!
Contact us today at (360) 803-0710 to learn more about our services and how our SEO experts can help you grow your business by choosing us as your marketing partner.
Note: This post has been updated on 05/19/2023