Why Invest in Web Design?
A survey conducted by Adobe in 2015 revealed that 66% of people would prefer to see a beautifully designed website over something bland and straightforward, and those numbers have likely increased in recent years. A website's design is a crucial element of a company's online marketing presence. First impressions matter; a website is often the first thing customers see when researching a business. A good site will be full of relevant information, engaging content, and eye-catching images and design. Professional web developers, internet marketing firms, and SEO-specialists can all help with a company's internet presence without detracting from providing customers with the highest quality goods and services possible.
"66% of people would prefer to see a beautifully designed website over something bland and straightforward."

– Adobe, The State of Content: Expectations on the Rise ]
What Does "Website Layout" Mean?
When someone refers to a website's layout, they are referring to the structure of the website. A website layout is a framework. Think of it as scaffolding: the design provides support for the website's content. A successful website layout will have clear paths for navigation for users, and it will highlight the essential elements of the website.
Most Popular Website Layouts
Some website layouts are consistently popular because they are usually effective. Keep in mind that not every arrangement on this list will be appropriate for every company. Just as with any design, keeping in mind the website's purpose will help with the decision-making process.
The Zig-Zag Layout
The zig-zag layout is based on the way that most users scan a webpage: in a z-letter direction along with the page. Users' eyes naturally go from left to right, then down and to the left, and then again to the right in a "Z" shape. Many website developers take advantage of typical web-surfer behavior with this layout.
Full-Screen Photo Layout
Full-Screen photo layouts are popular for sites that want to impress a subject onto users immediately. In these layouts, any text or content on the main page is meant to support the "living" image.
Grid Layout
Grids are useful for organizing in the physical world, and this is also true for the digital world. Websites with a grid layout typically organize information into boxes to make it easy for users to browse. Grids make it possible to have a symmetrical and even distribution of text, photos, and videos. Grid layouts are popular for news websites and video websites like YouTube.
One-Column Layout
A one-column layout is one of the most straightforward designs in use. A one-column layout organizes information in a simple, easy-to-follow fashion. Users only need to scan for critical points of interest in a single column. This layout works well for long-form articles and research papers.
Featured Image Layout
Featured image website layouts involve each page of the website, highlighting a featured image that represents the page's purpose and content. The featured image helps direct the user to a specific topic, and it also stands as the focal point of the page. Featured image layouts are popular choices for blogs, freelancers, and other professionals.
Split Screen Layout
Split-screen layouts are useful for companies that wish to convey dual importance. The purpose of a split-screen layout is to encourage quick choices by the user to help them navigate the site. These layouts are accessible for online clothing companies or other e-commerce sites.
Why Does It Matter?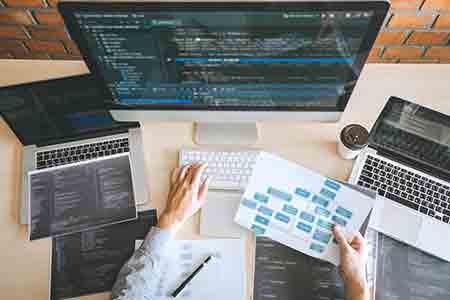 Local business owners may be tempted to skip internet marketing or to resist updates to their existing webpages, citing "word-of-mouth" as their primary marketing strategy. In today's digital age, even if a potential customer hears about the company from a friend, they are far more likely to look the company up on the internet then they are to make a phone call or visit the business in person. Here are a few reasons why it's essential to pay attention to a website's design and layout.
First Impressions
When a potential customer visits a website, the home page and layout is their first impression of the company. Most customers will make a split-second judgment about a company based on its website. If the site is poorly organized or outdated, this can lead to a negative first impression and decrease the likelihood of attaining that customer. A good website layout will keep potential customers engaged.
SEO Strategy
A good website layout will help with a company's online marketing strategy. Search engine optimization (SEO) strategies are much easier to implement on a well-designed website. SEO helps a company's internet presence, and professional internet marketing firms can help increase a company's visibility. The layout and code of a website need to be SEO-friendly for the best visibility in local and national markets.
Trust
Customers don't trust websites that look and feel poorly designed. A professionally designed and well-organized website instills confidence in potential and existing customers. Additionally, a well-designed website will make a company stand out against its competitors in both search engine results and customers' minds.
Competition
A website's design and layout is an opportunity for a company to compete against its business adversaries. A professional website will showcase a company's unique features and utilize design elements as well as SEO-strategy to outrank competitors. If a company's website ranks higher in search engine results, that company will receive more web page visits and sales than a company that has a website ranking lower in the search results.
Consistency
A company's brand is vital to its marketing strategy. A website that is aesthetically pleasing and consistent will help build a business's brand. A consistent website layout will use the same fonts, styles, layouts, and colors across every webpage. Consistency makes it easy for customers to recognize a company's brand and encourages longer engagement times on the website. It is easier to convert potential leads into customers with brand consistency, which helps build trust.
How Can Effective Web Solutions Help?
Effective Web Solutions can handle multiple aspects of Portland-area businesses' internet presence. With a collaborative team full of SEO-specialists, experienced web developers, and content creators, Effective Web Solutions is dedicated to developing multi-faceted marketing strategies to help companies outrank and outperform their competitors. Call or email today to learn more about EWS's services in Portland!