EWS is proud to hit another major milestone!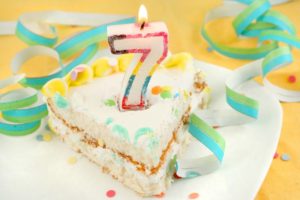 Effective Web Solutions turned seven this month and we're proud to announce another incredible year. It's been a great one, and we've been working hard to deliver large-scale internet marketing for local businesses. Co-owner and Operations Manager Monique Rice said it best. "[blockquote author="Monique Rice"]One of the best things about being in our business is helping businesses owners really thrive. I think that's what really motivates us and makes us feel like we are truly making a difference. We are extremely grateful to all of our clients for helping us achieve long-term success. Many of our clients have been with us since day one, and we are really honored by their continued trust in our abilities. Thank you![/blockquote]Staying on the cutting edge of internet marketing means providing our clients with more. That's why we've launched some major new services this year. With smartphone use expanding and reviews becoming one of the most important converting factors around we're delivering on both fronts.
How many stars do you have?
Our reputation management program has been a resounding success. Our program is designed to promote the creation of positive reviews, mitigate negative reviews, and provide business owners with the opportunity to respond and resolve conflicts whenever possible. We've achieved better results than our clients ever could have ever imagined. Positive reviews have more than tripled for many of our clients. This includes multiple platforms like Google+, Yelp, and Facebook. Negative reviews for reputation management clients are at an all-time low. As we've delivered the opportunity to head off problems before they go live, negatives are turning into positives.
Is there an app for that?
With Effective Web Solutions, there is. This year saw the release of our custom designed apps for small businesses. They are perfect for service industries, making it a snap for customers to schedule services, reach out to businesses, get updates and more. These are perfect for mobile businesses as well, allowing business owners to easily send out alerts and specials to customers in a specific location.
Ready, set, go!
We're always looking forward to the future, and our processes are always changing in order to provide our customers with cutting edge services. We can't wait to see what's in store next, and we're happy to serve clients in local markets across the United States and Canada.