Will the proximity factor affect your business?
As Google continues to fine-tune its experience, the company experiments with different options in search of that perfect user experience. The local map pack is one of these tools that's constantly being refined. Starting out with an ambitious 7 results for the local map pack, Google later shrank this down to 3  for a better mobile-friendly interface. Now, some users are seeing only two map results for certain searches and leaving a spot for a paid ad to occupy the top spot. While many of these changes claim to have many benefits for small local businesses, a recent change to the maps has many people scratching their heads; the importance of proximity ranking. Once seen as an added bonus, proximity to the user may in fact now be the most important ranking factor.
How important is proximity really? 
While proximity to the user is certainly an important part of searching for a business, it makes more sense in some industries than others. Someone who wants to take their spouse out for the best steak and lobster dinner in town for their anniversary, for instance, is probably just fine with driving several miles to make sure they get the best value. On the other hand, someone who's just been in an accident and needs their car towed home will probably find a towing company around the corner more appealing than one that's eight miles away. This means that Google's on to something with this change, but it might need a little more fine adjustments to get it right.
[divider height="8″ style="default" line="default" themecolor="1″]
Mobile vs. Desktop
Each year, more and more users switch to mobile as their primary search engine device. But that doesn't mean desktop has disappeared, and depending on which device you're using, you might get an entirely different experience.
Desktop
Finding location is much harder with a desktop. Unlike a smartphone, most computers don't come pre-equipped with a precise GPS system–or any location information at all really–so guessing location is more of a ballpark estimate than a precise point. Because of this, Google takes the information it has into account, such as IP address and Wi-Fi information, to approximate where you are. For instance, doing a desktop search in Incognito mode with directions from "My location" to where I actually am put me a good half mile away and focused the search for "pizza" around where it thought I was instead.
Mobile
As Google has adopted a "mobile-first" mentality, mobile users see changes more than desktop. And with more ads being listed before organic searches as well as the map pack, mobile users have to scroll sometimes two or more screen's worth of information to get to the organic searches. This means that the maps are more important in mobile, and ranking well in the maps can ultimately be the deciding factor between which competing business to go to in the same industry. [divider height="8″ style="default" line="default" themecolor="1″]
Online reviews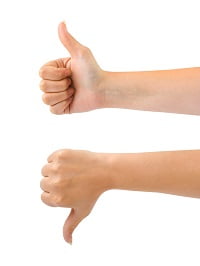 While the outlook might look bleak at first glance–you can't simply change your location after all–for some users, the changes will be minor. One of the most important reasons for this is because of online reviews. According to Search Engine Land, 88 % of consumers trust online reviews as much as personal recommendations. Combined with Adweek's claim that millennials buy products based on word of mouth and personal recommendation, and reviews are one of the most important ways to help or hinder your business.
Get a google+ account
If you want to do well on Google, getting a Google+ account is essential, especially if ranking in the map pack is important. In the map packs, businesses have their Google review score underneath their name for a quick look at what consumers think about the establishment. This used to specify that it was a Google review score, but they took away the modifier and unaware users might think that this is a collection of reviews or overall score, making Google+ more important than ever. With an account, you have the ability to read and respond to reviews, which can make a huge difference to a potential customer.
Proximity search doesn't account for reviews
While it certainly isn't a good thing to be pushed off of the map pack in favor of nearby businesses, a good amount of them haven't optimized their business for Google. Some haven't even claimed a listing. Several don't have websites at all, and miss out on the many benefits a website can have for small businesses. Others may have a poorly-designed website and have no Google reviews. Because so many consumers rely on reviews, not reaching out for them or having poor scores can do more harm than good, meaning that potential customers will look elsewhere–possibly to you. [divider height="8″ style="default" line="default" themecolor="1″]
[info_box title="What about organic results?" image="" animate=""]Proximity to the user is a major variable in the top search listings, but the same doesn't go for organic searches. Thus far, organic searches seem to be largely unchanged, and plenty of companies are still scrambling to figure out the changes from the last update. For the time being, proximity to the user is more of an important factor only for the maps, and likely won't be an issue for organic searches. This makes sense, because users who browse the map pack are likely looking for somewhere to go to now or in the near future, while many organic searches are for general research.[/info_box]
What can I do?
If you have a strong, reliable web presence, just keep on doing what you've been doing. Keep your business details updated. Make sure you have relevant content and a good site design. And of course, provide quality goods and services at a great value. As with any change Google makes, this change might be temporary and eventually be rescinded, but keep in mind that many tech-savvy users will still be able to find you without much more effort.