Internet Marketing For Contractors in The Roofing Business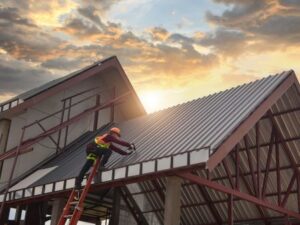 It takes a certain understanding of the roofing industry to provide effective internet marketing strategies for roofing companies in the Phoenix area. At Effective Web Solutions, we have over 14 years of experience curating impressive search engine optimization techniques for roofing contractors that not only help to improve their online presence but also increase their sales through a targeted, multi-platform approach. We make you visible online and drive internet traffic your way so you can focus on running your business.
Whether you specialize in residential or commercial roofing, our team of SEO specialists will help you hone in on your target audience and generate the real leads you're looking for. Give us a call today to schedule a meeting, or fill out our free digital strategy review online to get started!
Effective SEO Strategies For Roofers
Roofers need to rank for specific key terms in order to be visible in internet searches. These terms vary by area and are specific to the roofing services you want to promote. Whether that's roofing repair, commercial roofing services, or metal roof installation, our team will work with you to come up with the most successful search terms for your site. We optimize every aspect of your website in order to get the best ranking visibility and the highest conversion rates. EWS offers proven solutions that are individualized to fit your specific business needs.
Thoughtful Web Design Geared Towards The Roofing Market
While some companies offer single-style websites and use a cookie-cutter approach to replicating them, we prefer to bring the unique character of your company forward in your web design. We listen to you and your ideas. Our web developers work with you to combine the best optimization and conversion techniques along with user experience and your ideal vision for your website. In the end, you will have a website that speaks to your unique branding while also being highly functional.
Incorporate PPC Advertising Into Your Digital Marketing Strategy
Pay-per-click (PPC) advertising puts your website right at the top of the page for Google web searches. They do, however, need to be well-planned in order to get the most out of a campaign. It is important to have the right search terms targeted for your PPC campaign. Without the necessary research on the best terms in your target areas, the advertising will yield few results. EWS has worked with many roofers, designing and managing highly successful PPC advertising. Talk to us about how we can get your phones ringing with a PPC campaign.
Keep Your GBP In Peak Condition With Reputation Management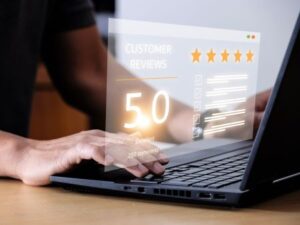 Service industries are particularly susceptible to the influence of online reviews. Eighty-eight percent of consumers look to online reviews for recommendations on who to trust. A single bad review can resonate with potential customers for years, steering them away from your business. Having no reviews at all creates a lack of trust and low visibility to your online audience.
Effective reputation management is crucial for roofing companies seeking a competitive advantage. Unlike competitors who rely on chance for reviews, proactively managing your reputation sets you apart. Our specialized internet marketing services are tailored to amplify positive reviews, promptly address negative feedback, and offer you an opportunity to engage with customers before issues become permanent. We employ strategic incentives to encourage customers to share positive feedback, significantly boosting your positive review capture rate. A collection of positive reviews not only enhances your business's credibility but also builds trust with potential customers, establishing confidence before they step through your door.
Call Us Today To Discuss Your Digital Marketing Strategy!
Don't let your roofing business be left behind in the competitive online landscape. Take charge of your success by calling Effective Web Solutions today. Our team is ready to elevate your brand through tailored search engine optimization and digital marketing services. Let us be your partner in achieving online visibility and driving customer engagement. Call us today to schedule a consultation and propel your roofing company to new heights. Your success is just a call away!