Search Engine Optimization Experts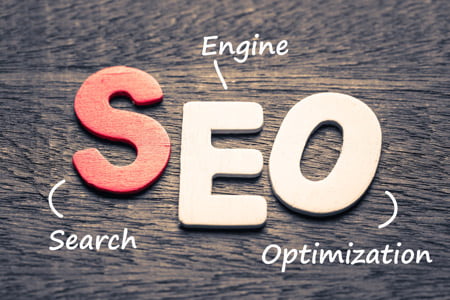 Search engine optimization (SEO) makes your website visible. Just having a website isn't enough. If it is not visible in search engine results pages (SERPs), you are losing out on internet marketing. With a vast majority of consumers looking for products and services online before making a purchase decision, your competitors will thank you for not having an optimized website. Effective Web Solutions has a team of internet marketing experts that deliver proven SEO results to increase your company's online presence.
Customized SEO for Portland Businesses
There is no one-size-fits-all when it comes to SEO. Each company has unique locations where it does business, exclusive services, and products to offer, and a unique business model. EWS listens to you. There is no point in being highly ranked on search results for a product you rarely carry or in an area you don't go. Our optimizers work with you to get your web pages seen by people looking for you.
With Search Engine Optimization services, you're putting your business's best foot forward and set it up for incredible long-term success. With a great SEO strategy, your website can be at the top of Google. Improve your business's online presence with SEO services from Effective Web Solutions.
Keyword and Phrase Optimization
Keywords and phrases are those people use when looking for something online. They may look up leaking pipe when searching for a plumber who can repair a leak. EWS researches the words and phrases specific to your business. We find those that are most commonly used for your industry and develop web pages with content optimized to appear in search results. It is an effective strategy that works to bring driven results to your business.
We also focus on location-specific terms. Search engines are smart when it comes to recognizing where a person is searching. Your website needs to reach the primary locations where you do business. We can help you get there.
Onsite Optimization
Onsite optimization is about tweaking your website, so it has everything it needs to appear in search results specific to your services and your location. While no one can promise a perfect search engine placement, we have a proven record for landing clients very high in the search results for multiple terms in multiple locations.
Offsite Optimization
Offsite optimization is all the SEO outside of your website. That includes things like social media, review sites, link-building, and creating citations. These things help search engines notice your website and improve its domain authority. All of these things help your website get seen by Google and improve your online presence.
SEO is a wide array of strategies that all have a part in improving search rankings and making your website visible to a target audience. EWS has honed these avenues to a finely-tuned symphony. Each SEO strategy is specific to a company and its particular business.

Our teams work independently and together to provide every client with a customized, cohesive, and thorough SEO strategy. When it comes to SEO, Portland consumers respond to these strategies. That's because they are tailor-made to reach your clients for your most valuable terms and locations. Our local SEO in Portland allows you to compete against national chains, evening the playing field for local businesses of all sizes. From web design to citations and carefully curated reputation management, we put your business's best identity online and make sure it ranks for the world to see.
Portland's Best Option for SEO
Effective Web Solutions is the top SEO services provider in Portland. We offer an in-depth look at your website and can determine the best strategy to improve the site going forward. Our team of professionals can shine a light on your business and put it front and center for all of your potential customers on Google!
Call today to talk about how we can improve your business with targeted SEO in Portland.
Other Services Include:
Internet Marketing
Web Design
Remarketing
E-Mail Marketing
Reputation Management
---

Portland
The largest city in Oregon in terms of both size and population, Portland is a vibrant city full of great and unique food options, beautiful natural scenery, and one of the most exciting culture scenes you can find anywhere in the United States. Founded in 1845, Portland got its name after the city of Portland, Maine. The area was originally a port city. It was a hot spot for the lumber industry, due to the abundance of trees in the area and its accessibility to the Pacific Ocean via the Willamette and Columbia Rivers. The city is nestled at the most northern end of the Willamette Valley and surrounded by hills and in between two mountain ranges, the Coastal Range and the Cascade Range. Portland is 60 miles east of the Pacific Ocean and about two hours west from the popular destination of Mount Hood, making it a desirable area for those who enjoy the outdoors. The city itself boasts an incredible amount of parkland, nearly 16% of the entire city. With Portland having so many options for activities, it's hard to be bored in the country's "smallest big city." The city offers numerous museums, theatres, concert halls, a beautiful zoo, and sports teams as well. Portland is home to two major sports teams, the Portland Trailblazers of the NBA and the Portland Timbers of the MLS. You can watch a game, enjoy unique dining options, try out one of the many microbreweries in the city, or grab a cup of famous Stumptown Coffee. Whatever it is you're looking for, Portland has so much to offer.