Remarketing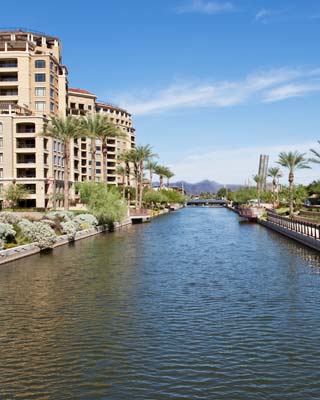 It can be nearly impossible to reach every potential customer, especially once they leave your site. Users fail to convert for a number of reasons. They may decide not to buy, are shopping around, or purchased and haven't thought about your brand since. They don't have to be a lost cause though. With remarketing in Scottsdale from Effective Web Solutions you can rapidly capture and convert previous visitors to your website. Our remarketing campaigns advertise to your site's visitors even when they aren't on it. This makes it one of the most persuasive advertising strategies you can use.
What is Remarketing?
Cookies are saved by your browser whenever a site is visited. They can do a variety of things like track page visits, store preferences, and more. We use cookies to display ads on your customers browsers after they visit your site. These are targeted, following users from site to site. Ads often display in sidebars. For remarketing, Scottsdale is home to a diverse range of citizens. Tailoring ads that target them based on gathered information yields an impressive conversion rate. This can be a high as 50% greater than organic results alone.
That's because once a user visits your site they are subtly conditioned. Your color scheme, logo and business name are all filed away as known information. Though they may not be aware of when or where they saw it, they'll inherently trust it. This greatly increases the chance for engagement and conversion, even if previous purchases weren't made. When it comes to remarketing, Scottsdale businesses trust our experts to create campaigns that capture consumers, spur sales, and expand markets.
We make Remarketing work for you!
It takes an expert to fully apply the science of remarketing. Without the proficiency that comes with experience and training, a remarketing campaign will not be successful. When it comes to remarketing, Scottsdale services have to be customized for every client. Software settings allows us to adjust a wide range of variables, determining when and which ads appear. This is based off of user behavior like search history, patterns, current searches, bounce rate, and more. Ads are hand crafted for your business to appeal to your customer base depending on your industry, specific service, and more. We analyze user search patterns and data to identify customer intentions. This evidence based, scientific approach to remarketing campaign creation provides our clients with the highest conversion rates.
Remarketing Scottsdale Ad consideration factors include:
How long and which pages were viewed
If check-out or engagement forms were utilized
Linked pages not viewed and user bounce rate
After leaving your site which phrases/terms users search
When it comes to business in Scottsdale, remarketing should be a necessity for every businesses digital marketing campaign. Remarketing allows your company to reach pre-primed customers that have already viewed and engaged with your website. This can capture valuable consumers who are unsure of your services, forgot about them, or even those who already purchased them. We tailor ads to target specific users profiles, this makes individualized remarketing Scottsdale ads the perfect way to reach every customer that visits your site and successfully grow your market share.

Targeted remarketing allows us to:
Convert previous website visitors
Campaign ads are tailored for user needs/habits
Targeted ads follow users beyond your website
Ads appear depending on time frame, search type, etc.
Up and cross-sell previously converted consumers for added sales
Reach every lead with strategic remarketing from EWS.
Capture primed customers from the competition, call (480) 620-8941 or Contact Us today for remarketing in Scottsdale.

Other Services Include:
Just some of the industries we work with: