See how EWS can make a difference for an emerging small business!
We're always proud to announce how our strategies come together for our clients. And though most of the clients at Effective Web Solutions are small, they typically see big results and can even compete with major corporations. In the case of a startup cleaning company in Portland, it came together fast, and in a huge way.
Pauline, the owner, had been doing janitorial work for a corporate franchise for several years before venturing out on her own. She had experience running a business in her field, but since the franchise did the marketing and client-gathering work, she was clueless about how to market her new brand and gather a substantial client base. Pauline expected to see some increase in her business and to get more out of SEO than it cost her; she never expected to get such an enormous return that it's getting hard to keep up with the new business!
What was Pauline doing before coming to EWS?
One of the primary reasons Pauline wanted to move away from the franchise was because they controlled the majority of the big picture options. Her former company "picked the advertising, where the money went, and [she] earned maybe 70k a year." Pauline felt like if she had more control of her businesses, she could target the type of clients she was after and do things her way.
However, one of her primary concerns was marketing and how to show her potential clients that she had something better. Upon meeting the Executive VP of EWS, Monique Rice, at a networking event in 2014, Pauline learned how SEO could propel her business into the "light" of popular online search engines like Google and Bing. She determined that this was the best way to move her business forward in a competitive local industry. But did it work?
---
How much of a difference did EWS make the first year?
Pauline had a revenue increase of
Over 81%
In her first year with EWS!
---
After EWS created and optimized a brand new website for her new company, she saw an 81% increase in her yearly income – from 70k to 127k.
---
EWS offers a variety of package levels that cater to the unique needs of your business. Pauline chose one of our upper-level packages that included:
Hosting
Website design and build
Google+ account management
Twitter design and branding
Web page content
Reputation Management
Facebook Campaign
Optimized landing pages for her top search terms
---
The Metrics: "A Tremendous Increase!"
EWS clients don't need to worry about tracking site visits, conversion rates, or clicks. We take care of all of that for you, providing reports at regular intervals so you have a clear idea of what's working and what isn't. For Pauline, she said, "I first noticed that our sales were going up when we ended up getting more calls than we could handle. We had to bring in an answering service because we got so many!"
The answering service bill has doubled in the last six months, an expense that Pauline considers worth it because, as she says, "we're making quadruple what we were and the business is growing exponentially. We get to hire new staff, get new contacts, and we're booking out full weeks in advance." She goes on to measure their success by how many walk-throughs (consultations) they schedule every week. "Before, we only got maybe five walkthroughs a month. Now it's 15-20 per week!"
Here's some hard data we gathered from their Google Analytics summary:
94.4% of Pauline's clients discover her business by searching for her company's category or service.
From August 10 to October 10, 2017, new and revised pages accounted for 1.18% of organic page views and 11 clicks. Organic traffic accounted for 66% of total page views in the same timeframe and their monthly income increased from 15k to 21k.
What does this mean for business?
By helping Pauline navigate Google Analytics and carefully choose terms that are most commonly used to find her services, her business saw a dramatic increase in service calls, giving her significantly more clients.
Is the crew at EWS easy to work with?
 When asked what she liked about working with EWS, she said she loves that the investment in SEO has big returns. "I get to do what I want without worry. I can always add more search terms and pages if I need to, and EWS helps me stay on top of things!"
She goes on to praise EWS for keeping her accountable. "If they need information, if I forget something, they keep staying in contact and reminding me. It's the only way I would have gotten this done. I couldn't have done it otherwise."
What services at EWS made the biggest impact?
While there are many services taking place behind the scenes that contribute to rankings, several key processes provided substantial returns that Pauline noticed right away.
Search Terms
Pauline attributes her most recent skyrocket in business to adding search terms to their contract. "The more keywords we give you guys, the more we get back!" After the first year, Pauline increased her keywords from 10 to 16 and has seen a spike not only in visitor traffic but in actual service forms submitted as a result.
Reviews
Customer reviews are one of the most important factors potential clients check before deciding on which company to choose.  Unfortunately for Pauline, this was an immediate concern, and not because of anything that she did. She found out that "There's another cleaning company with a similar name and people have been leaving bad reviews for them under our name."
Because of this, the reputation management services at EWS have been especially helpful to her in particular due to her unusual circumstances. Without quick action, her reputation would plummet, all thanks to a rival company that provided less than stellar service.
EWS's reputation management team came together to help Pauline deflect those poor reviews meant for her one of her competitors. "We had to address those and the reputation management team made it easy," she stated, impressed with how EWS worked with her to collect reviews that she says really help build trust amongst visitors and ultimately increase conversion rates.
"We get the majority of our house cleans because people have gone to our website and seen our reviews. Our Google reviews are better now and people come to us because of our position on Google. We have been at the top of the list since we started. At least 1st, 2nd, or 3rd. When they search for "Janitorial in Portland", they see us and our five-star rating."
The team at EWS was able to address this problem with reviews before it became catastrophic.
Website Design
When asked about why her customers chose her company, she cites the professional appearance and usability of their website. She jokes that she gets calls "all the time" from other SEO companies praising her professional-looking site and asking to represent her company. She politely declines and lets them know that she's happy with the one she's currently with. "I'm getting way more than what I expected."
---
What about after the first year? Did business still improve?
Pauline went from having a brand new company with no website to a solid brand with a strong design with the help with EWS. Creating these assets made an instant boom in business and got her on the map, giving potential clients more ways to find and contact her. But could EWS do even better the next year? Pauline decided to upgrade to a more intensive package including SEO, and her investment paid off.
---
How much did revenue increase the second year?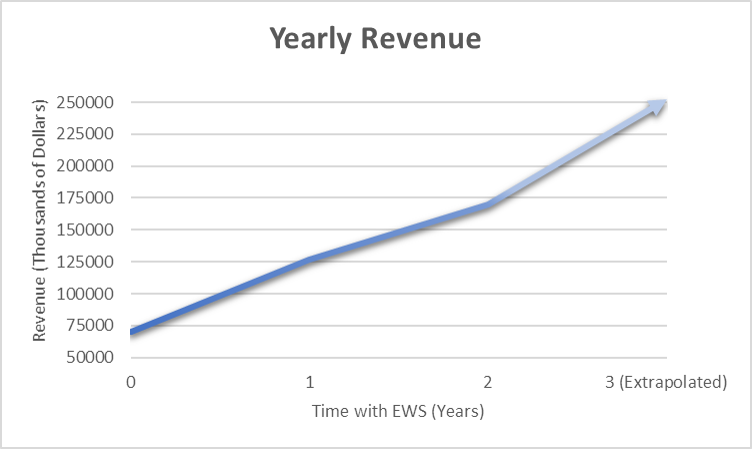 Pauline had a revenue increase of
Over 33%
From her first to second year!
---
The second year, Pauline's income increased over 33% from 127k to 170k. That's a 143% increase in just two years, and the end of the third year is expected to be near 250k after another package increase!
With all the new clients, what are Pauline's plans for the future?
We asked Pauline about her goals with her company and SEO strategy. She quickly responded, "We're going to expand!" We're even thinking of franchising because we've been doing so well. I hope [EWS] stays in business forever! With you guys at the frontline getting me out there, I have no fear expanding."
From a franchise owner to the proprietor of her own brand, she plans to franchise out within the next few years. Pauline is beyond thrilled with her experience at EWS –  being her own boss and growing her business. All-the-while retaining complete control.