Custom App Design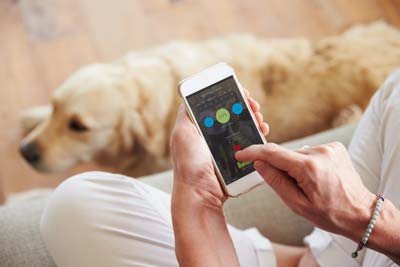 Businesses have much to gain from apps. People may check their email, social media sites, and surf the web on a smartphone, but you only have so much sway when it comes to steering them toward your ad campaigns. An app provides businesses the opportunity to send targeted push notification to specific audiences, right to their phone. And everyone knows consumers are basically tied to their smartphones.
App ads don't have the same competition that exist on digital channels. Your Facebook ad is fighting for attention with posts from friends and a YouTube ad is competing with cat videos. An app skips all that and goes straight to the customer.
Apps also have advantages over text and email campaigns. Text campaigns are expensive to run and still have a relatively low success rate, giving them a sketchy ROI. Email campaigns might not have a cost attached—other than time—but they have a low open-rate and can easily be drown in the sea of a full inbox.
What would I do with an app?
Glad you asked. Push notifications can be customized to go only to people who live in a certain area, have bough specific products/services, or are due for service. One example of this might be to send a notification to customers located in a certain area, offering a discount for the first three people who schedule an appointment for the same day a technician will already be out in that direction. Merchants can increase foot-traffic by sending an incentive to anyone passing within a certain radius of their storefront. There are scheduling options, payment options, loyalty "punch card" options, and much more.
With apps, you are limited only by your creativity when finding new ways to stay engaged with your clientele.
Benefits of a custom app
Reach specific people, in specific areas, at specific times. You can get messages out to the people who live in a certain area, are passing by a certain area, or are due for their next service.
It's convenient. You can pre-schedule your push notifications to go out when you want them to, so set them up once, and call it done!
Increase customer engagement by staying in touch. As mentioned above, social media is fighting for attention with so many other distractions. An app allows you to connect with your client one-on-one through their phone—now that's a great way to increase customer loyalty!
Increase efficiency. Apps have organizational features which let you share a calendar, send messages, track appointments and sales, and organize tasks and projects with your team.
Offer incentives. Apps can revitalize your business. Having a low-sales week, push out a notification offering a coupon for the next 10 people who schedule an appointment.
With 65% of revenue coming from repeat customers, apps are the perfect way of keeping customers engaged, happy, and coming back.
Call today and get in on the EWS customized app.